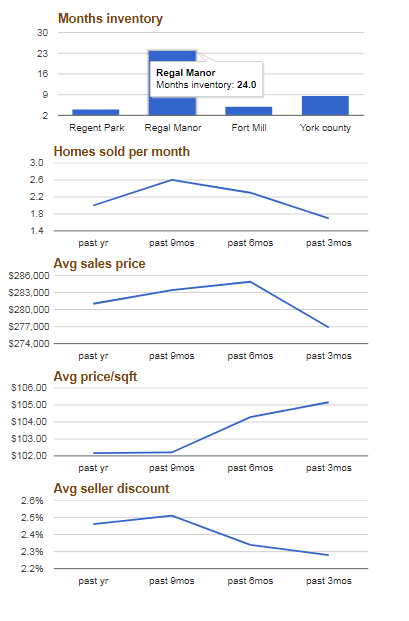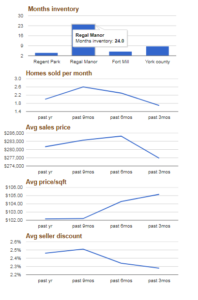 REGENT PARK: Regent Park is an amenity -rich community in Fort Mill, SC just two miles from Carowinds Amusement Park, four miles from Carolina Place Mall and just 15 miles from uptown Charlotte, NC.
Regent Park communities feature a mix of condominiums, townhomes and single-family units in a wide variety of styles and price ranges. As the northern most Fort Mill community, Regent Park contains numerous neighborhoods including Sunningdale, Keswick, Chadwyck, Madison Green, the Overlook, the Enclave and many others.
Prices range from  as little as $70k for a beautiful 1 bedroom condo overlooking Regent Park Golf Course in Kensington Place to custom built homes in the $600k range along Woodridge road.As part of the award winning Fort Mill SC school system, Regent Park residents attend Springfield elementary and middle schools and Nation Ford High School.
Regent Park Golf Club is an 18-hole Ron Garl designed semi-private facility, one of three golf courses in Fort Mill. The course lies on the North Carolina/South Carolina state line and traverses York County, Lancaster County, and Mecklenburg County. Regent Park Golf Club has been recognized with numerous readers' choice awards, including Golf Digest's "Places to Play".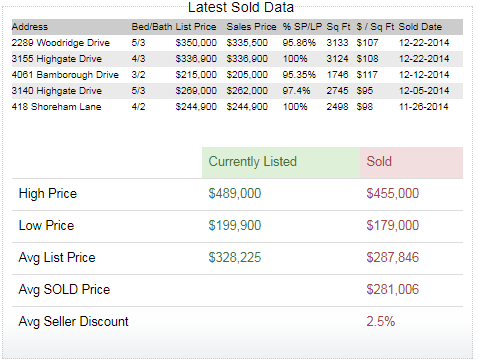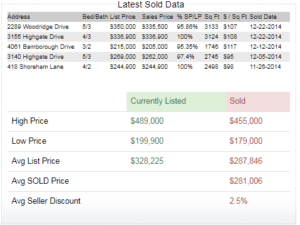 Other amenities in Regent Park include walking trails, tennis courts, basketball, playground and swimming pool. Bloom Grocery chose Fort Mill as the site of its first store in South Carolina; it is located at the main entrance to Regent Park in a new center including restaurants, retail shops and a variety of community services.