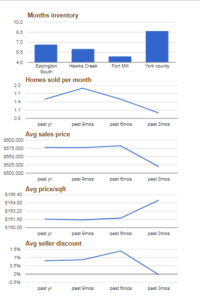 Eppington South is a very special neighborhood located in Fort Mill, SC.  If you are looking for a community and a home with that "wow" factor then you need to visit this community.  Located just minutes from I77 and around 15 miles to uptown Charlotte it is evident as soon as you enter Eppington South that great care and planning were given to its design.  This prestigious
community with it's natural beauty, rolling hills, indigenous brooks and incredible estate homes is something to behold.  Its close proximity to businesses and recreation resources just add to Eppington South's allure.
I know I might have gone a little overboard with this one but I love riding through here and checking out the homes.  They truly are unique.  So, give be a ring and let me show you why I think Eppington South in Fort Mill, SC is so special.